It took investigators more than a year to piece together what happened to an inmate at the Louisville Metro Department of Corrections.
When their investigation was finished, nine men were charged with assaulting another inmate and harming him so badly, that he is now incapable of taking care of himself.
According to an affidavit from the Jefferson County Circuit Court in Kentucky, the inmate is now "incapable of consent" and "physically helpless."
Legally, the terms mean that he is now so incapacitated that he is unable to resist any sexual advances and that he is also unable to communicate unwillingness to perform any type of task.
The men arrested are: William Adam Crews, Michael Eugene Jenkins, Conrai Andre Kaballah Jr., Tymarius Rashaun Malone, Tyjuan Romel Moody, John Robinson III, Jody Allen Smith, Ricardo Delquan Taylor, and Dashawn Lamont Wright.
Each of the suspects faces one count of the following charges: attempted murder, first-degree assault, first-degree sodomy and tampering with evidence.
And because six of the suspects – Crews, Jenkins, Kaballah, Moody, Smith and Taylor – have felonies on their records, they each face one count of being a persistent felon, according to the affidavit.
The name of the inmate who was severely injured was not released.
In addition, the reason he was beaten was not revealed.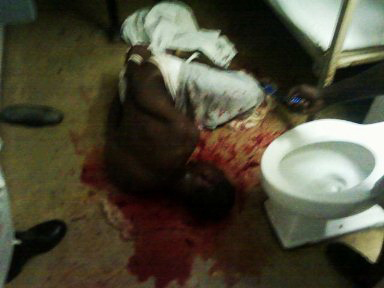 Source: farrahgray