Use your ← → (arrow) keys to browse more stories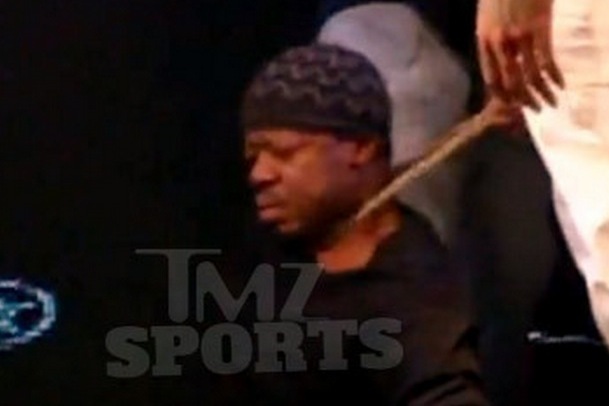 Steve Francis hasn't had the easiest go of it since retiring from the NBA in 2008.
Between the club confrontations and weird, self-imposed champagne showers, the former Houston Rockets guard is far removed from his apex of NBA All-Star selections and video game covers.
Thus we have the Stevie Franchise Curve—a drastically steep life trajectory that peaked with a Destiny's Child cover shoot and now continues to ride along an ugly trough with a recent chain-snatching at a Houston rap concert.
TMZ posted scary footage of a man nearly wrenching Francis' head off in a robbery attempt at a Sauce Twinz concert in Houston. The former Rockets guard was onstage with the rap duo when an altercation appeared to interrupt the proceedings.
Warning: Video contains NSFW language.
It's unclear what the issue was at the beginning of the video, or if Francis was involved, but the former high-flyer was standing in a group of people onstage when a man in a black jacket made a grab at the 38-year-old's chain.
The man shouldered his way into the group and yanked down violently on Francis' gold chain.
If your glass is half full, you'll note that Francis' links held through the initial tug. Conversely, this sturdiness caused Francis to be dragged to the ground by his throat, where he appeared to receive a kick to the neck or shoulders from his attacker in an effort to break the chain.
All hell broke loose at that point, and TMZ reports Francis' assailant got away with the necklace.
Fortunately, Francis did not suffer any serious injuries, and TMZ maintains police were not called to the scene.
With that said, stop ripping jewelry, people. It's dangerous, and it's only a matter of time until you tug on some Only Built 4 Cuban Linx quality chain and end up serving a deuce for collapsing some dude's windpipe.
As for Francis…listen, buddy. I know you can't help that there are miserable thieves in the world. And I know rap concerts are fun and awesome, and that the more famous you used to be the closer you get to be to the artists. But at 38, maybe you shouldn't be in the middle of the action.
I'm just saying, maybe stay backstage or look into opera box seats. They have those at every rap concert. I've checked.
Dan is on Twitter. His chain game is not at Franchise levels.